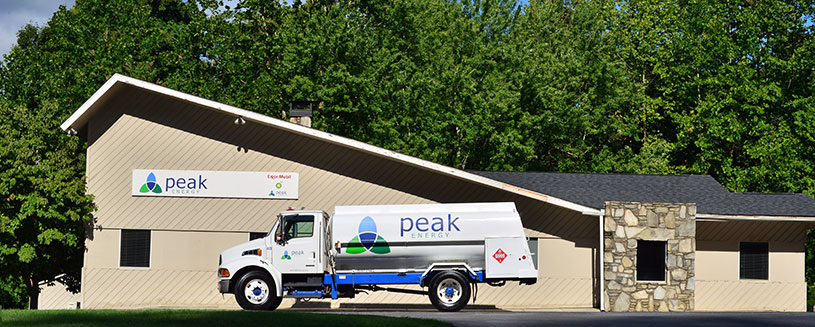 About Peak Energy
Incorporated in 1952, Haywood Oil Company grew from a small home heating oil delivery company with one office in Waynesville, NC, to a large, petroleum marketer with offices, convenience stores, restaurants, and customers in North Carolina,South Carolina, Georgia, and Tennessee.
In 2005, it was decided that a new name, Peak Energy, would better reflect the company's mission and reaffirm its role as one of the larger oil heat and petroleum marketers in the southeast.
At Peak Energy our focus is on improving the quality of life for all of our customers while helping businesses to meet their value goals.
Peak Energy is proud to have grown through association and merger with many great companies with long and rich heritages. The Peak Energy family of companies includes, Haywood Oil, Pearson's Oil, Western Carolina Oil Company, the oil heat division of Citizens Fuel, Walls and Marshall, Chambers Oil, Reed Oil, Canton Fuel, Champion Fuels, and Smile Oil.
Peak Energy's wholesale division provides petroleum products to convenience stores, truck stops, government entities, industry, and businesses in North Carolina, South Carolina, Tennessee, and Georgia. Our goal is to provide industry expertise to help our convenience store customers with site and building design, branded fuels options, financing, fleet fueling, and co-branding opportunities. Our branding opportunities include the finest in the business: BP, Citgo, Sunoco, Southern Star, Exxon, Mobil, and a host of independent brands.
Peak Energy operates Time Out! Markets, one of the most dynamic convenience store chains in the region. Time Out! Markets is committed to providing our customers with fast, friendly service, safe clean stores, great brands, and fresh products every day.
In addition, the Peak Energy family of businesses includes the home heating fuels division, which provides heating oil,kerosene and biofuels to thousands of families throughout Western North Carolina. The branded foods division operates Subway, Scoops Ice Cream, Huddle House restaurants.
We are a locally owned business with offices in: Waynesville, Asheville and Shelby.
Our success is directly related to the professionalism of our employees and the loyalty of our customers. Our goal is to exceed our customer's expectations everyday by giving them quality products and legendary service.
We welcome you to contact us if we may be of service to you.